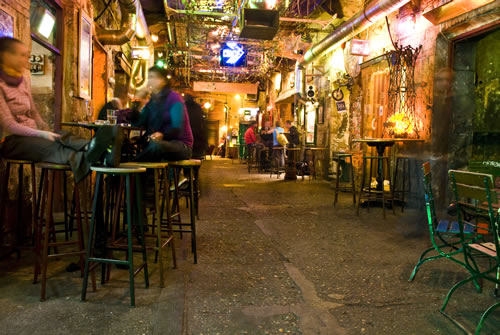 The party scene in Budapest is not to bed missed! Buslting with one of the widest varieties of Nightlife in Europe, there is always something happening every night of the week, all year round.
Summer time (May-September) however brings something extra special with the opening of the out door bars, where you can 'do your thing', until the sun comes up!
We suggest paying a visit to INSTANT, SZIMPLA KERT, CORVIN TETÕ, A38, ÖTKERT, MUMUS, KIADÓ KOCSMA AND HOLD UDVAR.
Budapest is famous for it's outdoor courtyard Bars, grungy underground clubs and elegant cocktail bars.
You are bound to find something to suit you around every corner.
Venues such as Szimpla Kert and Instant (ruin bars) in the VI District are infamous for their chilled out, quirky backdrops and overgrown garden themes.
Whether its a trendy, traditional or bohemian vibe you're searching for on your stay in Budapest, here are a few of our top picks from Backpack Guesthouse.
INSTANT – Newly renovated Instant is Budapest's hippest and largest bar in the VI District. It largely draws a young, late night crowd of locals and visitors. Set upon three levels, take your pick of Underground Dj's spinning fresh in the basement, dancehall beats on the floor upstairs or the covered courtyard, willowing out chilled jazz and lounge. Cool art, like a herd of rabbits running across the roof, while being overlooked by a cat-woman-sphinx, is the newest addition.
SZIMPLA KERT – One of Budapest's largest outdoor / Indoor bars, you're likely to find the local pub-crawls spinning by here, with larger groups of tourists and Hungarians in the summer time and a more local intimate crowd in the off seasons. A guaranteed fun night out, Szimpla will be sure to leave you with either company for the night or an adventure on to another highly popular megaclub, 'Corvin Tetó'!
CORVIN TETÕ – Set up on the 8th story of a district building in well known Blaha Lujza square, take the 12 odd flights of stairs up to our most famous rooftop bar. Relax ontop with views out either side with some swing chairs and pot plants or pop down to the two dance floors on the level below. Cheap beer and drinks, always a great night here! VI District
MUMUS – Occupying two floors and the courtyard of an old derelict building in the VII District, this street level bar features funky urban decor and atmospheric lighting. Upstairs is a tiny dancefloor and bar, fired up by DJ's on Friday and Saturday nights. Dominated by the artwork of a well known local artist Attila Stark, his funky cross between Basquiat and Keith Haring, adds a demented kick to the place. Cheap beer and comfy lounges.
KIADÓ KOCSMA – Two storied lounge bar with a terrace set above the upper floor, Kiado is super chilled and set in the perfect environment for kicking back and meeting a few local students and artists. Different art exebitions every fortnight, great cheap Hungarian food with a very cheap drinks menu. Central to Oktogon, surrounding bars and clubs!
We also recommend checking out 'Most', 'Jelen', 'Vitulla' and 'Csendes' bar.
When you are here, ask us about the newest bars in town, as there are always new places popping up on the scene.