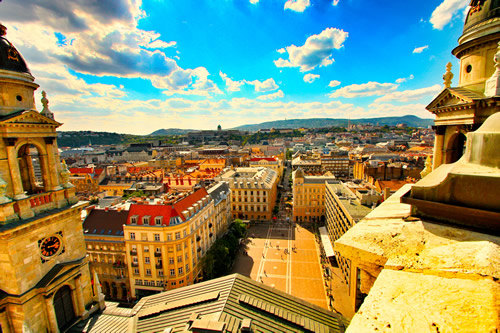 The Chain Bridge is one of the most well known landmarks of Budapest. The bridge straddles the Danube between Roosevelt tér on the Pest side and Clark Ádám tér in Buda.
Worth a walk across at night, all lit-up in it's glory, the bridge provides great spots for taking photo's of 'Castle Hill' sitting above on Buda side and the 'Parliament' on Pest, with the Danube river flowing below.
While somber but well worth a visit is the 'House of Terror'. The former Headquarter of the ÁVH Secret Service, it has a permanent exhibition Illustrating the grim decades of Nazi and Communist repression.
Walking up Andrássy út, between the 'House of Terror' and 'Hero Square', you will pass many grand, World Heritage-listed, 19th century buildings.
Millennium Underground Train (M2 yellow line), was the first of its kind on the European continent. Its stations have preserved the original layout from 130 years ago, with each station presenting the most important buildings of the Era.
The Avenue ends at 'Hero's Square', where the Museum of Fine Arts offers the world-famous Spanish collection and the opposite building of the 'Arts Hall' featuring temporary exhibitions of contemporary arts.
Tickets to most Budapest museums are cheap, varying between 800-1500 HUF (3-4 Euro) per adult.
WE ALSO RECOMMEND YOU CHECK OUT:
St. Stephen's Basilica (Szent István Bazilika)
Museum of Fine Arts
Ludwig Museum (Palace of Arts)
House of Parliament